The compact, 2-way Nexo GEO S1230 is a scalable line array module that displays exceptional MF-LF output (103dBSPL nominal sensitivity -1W @1m) from a single12 inch loudspeaker and NEXO's proprietary Directivity Phase Device (DPD). A narrow-Q (30°) device in single-source mode, S1230's unique Hyperboloid Reflective Wavesource (HRW) allows coupled S1210/1230s to radiate as coherent, wavefronts, yeilding precise pattern control in vertical or horizontal arrays. S12 arrays display traditional "tight-pack" pattern control in the non-coupled plane.

The 30° vertical dispersion angle of the S1230 make it particularly suitable for nearfield coverage when angled down at the bottom of the array. It is also useful for creating horizontal arrays allowing wide horizontal dispersion from a few modules.

Coupled MF/HF pattern control is array-dependent, as designed by GEOSoft2 array software. Non-coupled MF/HF coverage is adjustable, via NEXO's patented Configurable Directivity Device (CDD) flanges, at either 80° or 120°. Comprehensive hardware accessories, for both fixed and mobile systems, optimize inter-cabinet angles and rigging. NEXO's NXAMP TDcontroller maximizes S1230's MF/HF coherency while providing EtherSound network control.



NEXO GEO S1230 PRODUCT FEATURES
Components HF: 1x 3 inch voice coil, 1.4 inch throat 16 ohm driver on a 30° hyperboloid reflective wavesource.
MF/LF (front-firing): 1x 12 inch (30cm) high excursion neodymium 16 ohm driver.
Height x Width x Depth 344 x 674 x 400 mm (13 1/2 inches x 26 1/2 inches x 15 1/2 inches) excluding accessories.
Rigging axis to axis height: 345mm (13 1/2 inches)
Shape 30° Trapezoid
Weight net 26.8kg (59.1lbs) excluding accessories
Connectors 2x NL4MP SPEAKON 4-pole (In & Through)
Construction Baltic Birch ply with structured black coating
Front finish Molded Dark Grey Metal Grill
Flying points Two plates connecting with external accessories.
Intercabinet angle adjustments = (16°) - 22.5° - 30°.

SYSTEM SPECIFICATIONS GEO S1230
Frequency response 53Hz - 19kHz ±3dB
Usable range @-6dB 50Hz - 20kHz
Sensitivity 103dB SPL nominal
Peak SPL @ 1m 131 to 133dB Peak (for 500 to 900 W RMS Amplifier)
Dispersion Coupling Plane: 28.5° Non-Coupling Plane: Configurable 80° / 120°
Crossover frequency LF- HF: 1.1kHz Passive or Active (internally configurable).
Nominal impedance 16 ohms
Recommended amplifiers
3x GEO S1210 in parallel HF: 875 to 1550W into 4 ohms LF: 1750 to 3100W into 4 ohms
4x GEO S1210 in parallel HF: 1000 to 1800W into 4ohms LF: 2000 to 3600W into 4 ohms
6x GEO S1210 in parallel HF: 1650 to 3000W into 2 ohms LF: 3300 to 6000W into 2 ohms

SYSTEM OPERATION
Electronic Controller NEXO TDcontroller presets are precisely matched to GEO S12 Series cabinets and include sophisticated protection. Using GEO S12 Series cabinets with improperly connected TDcontrollers will result in poor sound quality and can damage components.
Array Design Arrays of less than 4x GEO S1210 will provide poor dispersion control and neither recommended nor supported.
Sub-Bass RS15 / CD18 / GEO SUB / S2 extend system low frequency response down to 35Hz / 32Hz / 38Hz / 32Hz.
Speaker Cables Active: 1-/1+:LF; 2-/2+: HF / Passive: 1-/1+: Not Connected; 2-/2+:LF + HF.
Rigging System Please refer to the GEO S1230 User Manual before operation.

NEXO GEO S1230 SHIPPING & ORDERING
Packaging GEO S1230 are packaged individually
Shipping Weight 1x GEO S1230 = 30kg(66.1lbs), 0.15 cu m (5.3 cu ft)
Related products: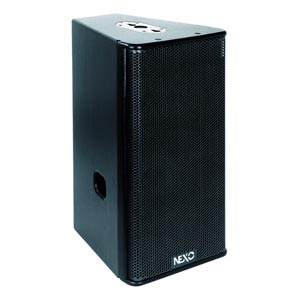 Nexo GEO S1210
View Product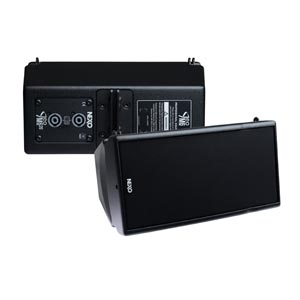 Nexo M620
View Product
Clearance Sale
Big Savings

Available Now
Find Out More